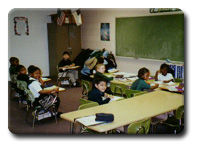 Welcome to Forest Park Christian School's Official web site. This webpage is setup to provide you and your family with information about our school and what we are about. Our school was built to provide Christian education to children in the Forest Park, GA and surrounding area. Our goal is to provide as much support as we can for our parents and students. So please look around and enjoy the site and, if you have any comments please contact us.
Yes, its true school is almost over. This year has been very prosperous and eventful, we think overall it has been a true success. There is about a month left and it is going to be exciting. Be sure to register your child for next year and be blessed.

Would you like to have a piece of FPCS on your computer? Well then, you are at the right place. We have made an assortment of wallpapers that you can download for free. They are all custom made just for FPCS and have various styles that will match exactly what you're looking for. There are also detailed instructions that will tell you how to put them on your computer. To see them click here.